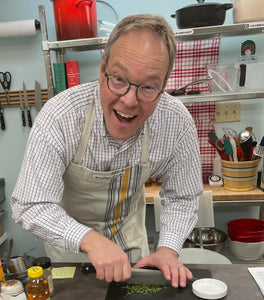 Teacher: Rodney Litwiller
Just because we don't live on the coast doesn't mean we can't reel in a little fish! We were thrilled when Rodney said he wanted to make his White Fish Chowder, the same one he made several years ago at our January Cookbook Exchange, it's simply wonderful. We'll make a French Boule bread to go alongside, a Shrimp Salad with Avocado, red onion and fresh cilantro (with or without) and a refreshing finish of Lemon & Lime Pie! 
Tuesday, October 17, 2023   6:00-8:00pm
All classes are conducted at our store and are observation only unless otherwise described. Class participants are served a portion of all the foods made in class and receive a copy of the recipes. Classes are conducted in a casual atmosphere where questions are encouraged.     Call with any further questions about the class 309-452-8841
Cancellations: You may cancel up to 3 days ahead of class for a full refund, call the store during business hours to do so at 309-452-8841.  No refund can be issued after that, but you may receive a copy of the recipes.