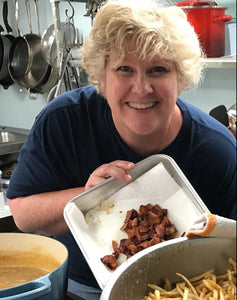 Teacher: Lynda Detmers
Ever since this BBQ rodeo queen stepped foot in Italy, she has claimed its food as her own! Lynda's dishes have all the romance, but none of the gluten in this triptych of savory and sweet dishes that call Italy home in Illinois. To start things off, Italian Stuffed Mushroom Caps with plenty of garlic, sausage & Parmesan. As a main course, "Porko" Crusted Eggplant Parmesan (no it's not a typo, you'll just have to find out) and for dessert Lynda will make gluten free Lady Fingers to create the much loved Tiramisu.
Saturday, October 28   6:00-8:00pm
All classes are conducted at our store and are observation only unless otherwise described. Class participants are served a portion of all the foods made in class and receive a copy of the recipes. Classes are conducted in a casual atmosphere where questions are encouraged.     Call with any further questions about the class 309-452-8841
Cancellations: You may cancel up to 3 days ahead of class for a full refund, call the store during business hours to do so at 309-452-8841.  No refund can be issued after that, but you may receive a copy of the recipes.