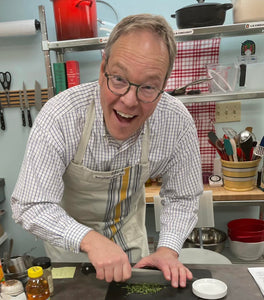 Teacher: Rodney Litwiller
To some, Thanksgiving is the best holiday of all and no wonder with the rich traditions of family, food and the spirit of giving. In that spirit we are grateful to have Rodney share his techniques. Join him as he dry brines & roasts Turkey, served with well cooked (not over cooked) Brussels sprouts. All on its own or part of the meal enjoy a luxurious Cream of Wild Mushroom Soup and buttery pastry wrapped Galette made with Butternut Squash, Blue Cheese and Walnuts and a finishing drizzle of aged balsamic!              
 Monday, November 6  6:00-8:00pm
All classes are conducted at our store and are observation only unless otherwise described. Class participants are served a portion of all the foods made in class and receive a copy of the recipes. Classes are conducted in a casual atmosphere where questions are encouraged.     Call with any further questions about the class 309-452-8841
Cancellations: You may cancel up to 3 days ahead of class for a full refund, call the store during business hours to do so at 309-452-8841.  No refund can be issued after that, but you may receive a copy of the recipes.