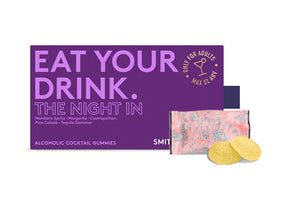 The Night In! Has a great collection of gummies that include the Cosmopolitan, Spicy Margarita, Pineapple Bellini, Pina Colada, and Tequila Slammer.  Staying in has never been more fun.
Mixed like a drink but consumed in 2 bites, these gummies are a delicious blend of fruit herbs, premium spirits and syrups.  
 10 gummies of assorted flavors.  Strictly for adults. Individually wrapped. Vegan friendly.