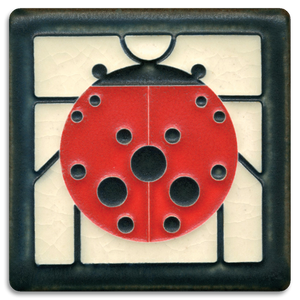 Motawi tiles are striking individual art pieces as much as functional tile installation accents.  Each one is made by hand and with heart in Ann Arbor Michigan.  Variation and handmade beauty are embraced and the heft of each Motawi tile reveals serious craftsmanship.  Time-honored hand-glazing methods produce  nuanced range of color with depth and translucence.
Mid Century modern meets Motawi mastery in this tile based on the work of celebrated wildlife artist Charley Harper (1922-2007).
Size:  4 x 4. Tiles are 5/8" thick and have a notch at the back for hanging.  Made in USA.