Welcome to The Garlic Press!
The Garlic Press has been part of Normal, IL for over 44 years and we're excited for you to visit our store.  We are a women owned, independent brick and mortar, and have been proudly lead by Dorothy Bushnell since 1976.  Dotti's guiding  tenet that fun, function, and great design helped establish who and what the Garlic Press is today.  While we have always been a specialty cookware store, we continue to seek  new, unique and creative items that make all our lives enjoyable, more efficient, tastier, or  comforting.  Come in and explore, we've got hidden treasures throughout and would love to see you.  
Be well and be creative
-Dotti, Sarah & Pam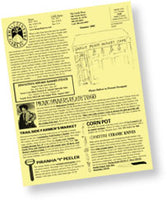 View our latest newsletter...
Each season we print up our newsletter and send it out via email and US mail. If you would like to see our most recent newsletter, view it online here!!
see newsletter (pdf)