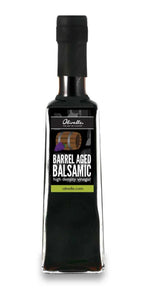 This is a knock-your-socks-off barrel aged balsamic that is sweet enough to drink, but a true savory to use as a foil over rich creamy dishes like Mac & Cheese. 
This is thick and dark and intensely satisfying. Built for drizzling over prepared dishes (elevate a frozen pizza on a lazy evening!), fresh strawberries, soft cheeses and firmer style cheeses like Manchego.
A rich blend of 80% cooked grape must and premium aged wine vinegar that is aged up to 10 years. Sun-ripened late harvest grapes are pressed and then cooked in open kettles to reduce the must in half. Then it is blended with aged wine vinegar to balance the acidity and finely left to ferment in small oak barrels up to 10 years.
Absolutely NO caramel color is added, no sugar or thickeners.