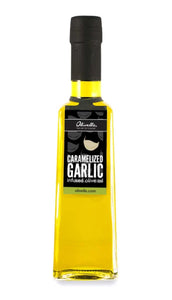 A must have for all garlic lovers and Olivelle's #1 selling olive oil! Savor the smooth but robust flavor of slowly roasted, sweet garlic that combines beautifully with this high quality extra virgin olive oil.
Use when sautéing veggies, marinating meats, perfect for drizzling on slices of baguette to toast for bruschetta. 
Pair it with Aged Balsamic Vinegar and the Parmesan & Asiago Herb Blend to use as a heavenly bread dip.