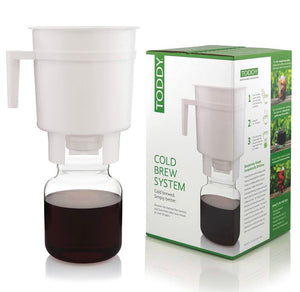 The original system for making concentrated coffee using 1 pound of coarsely ground coffee, clean water and 8-12 hours of steeping time, really simple! The very best for making Iced Coffee, we made it using this method for 12 years in our own cafe.
Fill your glass 3/4 with ice, pour in 1/4-1/3 way up the sides of the glass with Toddy Coffee and fill the rest of the way with milk, water, cream, or whatever you like.
Highly recommend using our Dean's Beans Marrakesh Express bean blend, it creates a lot of natural sweetness that pairs really well with milk. Fair trade & organic.