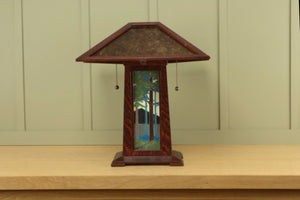 This handsome lamp has a Mica lamp shade with real shellacked mica that glows in a rich amber color when lit.  It's made with Quartersawn White Oak with a Craftsman Oak Finish and uses twin 40 watt lamps.  
Handmade. Size: 17" x 17" shade. 19" tall.  Has a 4" x 12" Motawi Landscape Tile.
Made in USA.  Curbside Pick up only.  Or, call for special delivery.