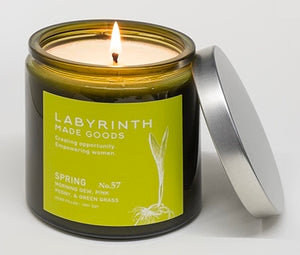 Morning dew, pink peony, & green grass
The scent of the Spring No.57 candle is like stepping outside on an early spring morning. Winter has melted away, dew sparkles on the grass, and peonies waft through the breeze. Complex floral notes take you on a stroll down a prairie path, the definition of Midwest Spring.
70 hour burn time, 100% soy
Labyrinth Made Goods creates opportunities that empower women who have experienced incarceration by providing professional development training, apprenticeships, and permanent employment as a part of YWCA McLean County.
We reinvest all proceeds from our nonprofit social enterprise to create more of these empowering opportunities so every purchase and donation you make supports our mission.
Each of our candles is hand-filled with 100% soy wax and premium fragrances that include blends of essential oils, extracts, and aromatic ingredients to create a unique sensory experience.