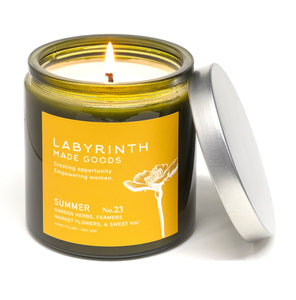 Garden Herbs, Farmers Market Flowers, & Sweet Hay

Summer No.23 transports you to a Midwest farmers market, past work-worn crates overflowing with fresh picked herbs and cut wildflowers. This scent is uplifting and gentle, floral with subtle notes of sweet hay and cedar to define the long, joyful days of summer.


This candle is 100% soy and are hand-filled in Illinois. Proceeds from every purchase are reinvested to create opportunities that empower women who have experienced incarceration.
Size: 70 hour burn time. 12oz